GAS DETECTOR
Gas-Max
Portable Multi Gas Detector
Portable Multi Gas Detector
A rugged portable multi gas detector with a compact and affordable designed meant to withstand harsh environments.
Developed with User-Centered Design Process to make the device interface and handling highly intuitive. The bright color LCD display with loud alarms and vibrations is helpful in a noisy environment. The rugged anti-static exterior provides accurate reading even when exposed to temperatures ranging from -20°C to +60°C and humidity ~95% RH.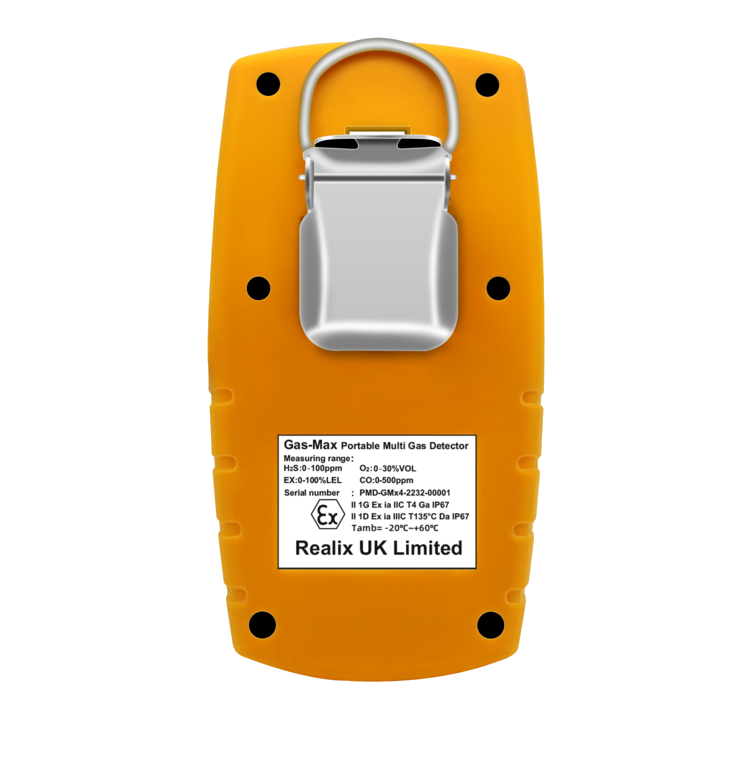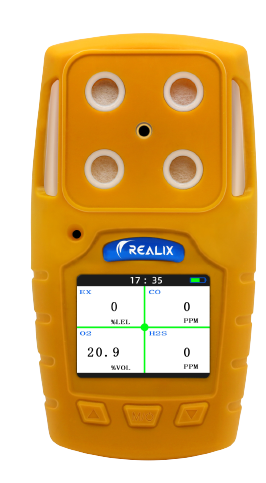 The small and lightweight package can host upto 4 gas sensors. The standard 4 gas combination includes CO, H2S, Methane, and O2. The other gases supported being NO2, SO2, CL2, NH3, and many more.
It is designed and tested to meet global IS standards, ensuring safe operations in hazardous environments.
MAIN CHARACTERISTICS

PHYSICAL CHARACTERISTICS

DOWNLOADS
Sampling Method
Diffusion
Display 
TFT Color LCD Screen
Sensor type
Electrochemical, Catalytic
IP Protection 
IP67
Warranty
2 Years
Battery
1300 mAh
Response time
T90 < 30S
Sensor Range 
Methane (0-100%LEL) O2 (0-30%VOL) H2S (0-100 ppm)
CO (0-500 ppm) NO2 (0-20 ppm) SO2 (0-20 ppm)
CL2 (0-50/200 ppm) NH3 (0-500 ppm) H2 (0-1000 ppm)
PH3 (0-10 ppm) ClO2 (0-50 ppm) HCN (0-50 ppm)
O3 (0-100 ppm) HF (0-10ppm)
Humidity range 
10%-95% RH (no condensation)
| | |
| --- | --- |
| Size  | 123.88x65x50.7 mm (L*W*H) |
| Alarm Methods | Sound, Light, and Vibration |
| Weight | 182 gms |
| Charger | USB powered DC 5V |
| Alarm Sound Intensity  | 65dB@25cms |
ATEX
II 1G Ex ia IIC T4 Ga IP67
II 1D Ex ia IIIC T135°C Da IP67
Ta: -20°C ~+60°C